International webinar on October 7, 2021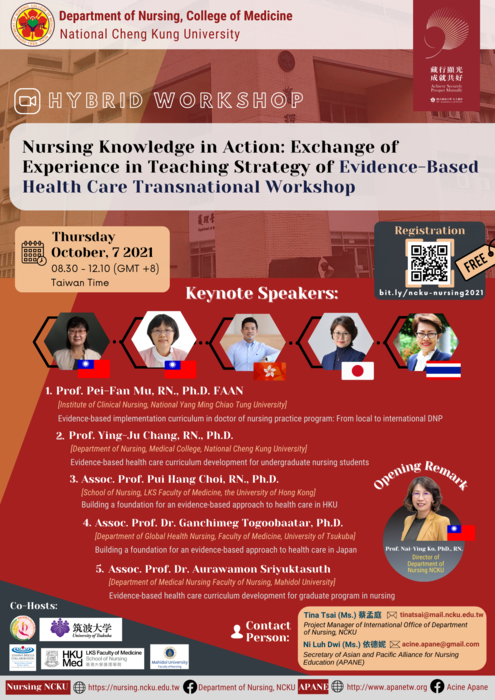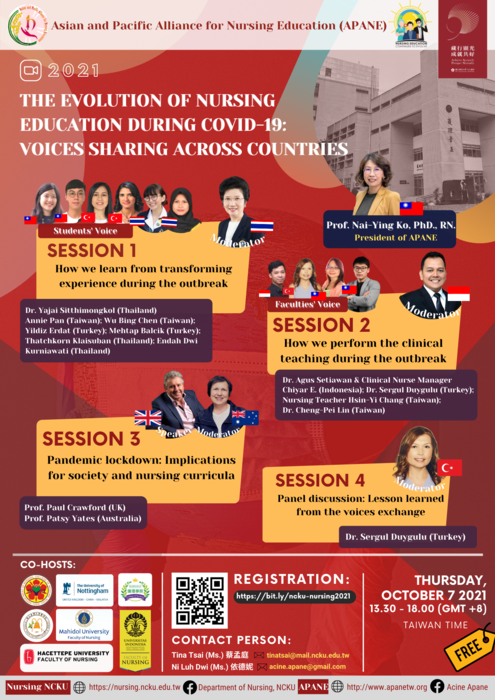 Warmest Greetings to All !
The Department of Nursing, College of Medicine in National Cheng Kung University (NCKU) and the Asian and Pacific Alliance for Nursing Education (APANE) are inviting you to join our International webinar on October 7, 2021.
📅Date:October 7, 2021
📍Morning Session
Nursing Knowledge in Action: Exchange of Experience in Teaching Strategy of Evidence-Based Health Care Transnational Workshop
📍Afternoon Session
The Evolution of Nursing education during COVID-19: Sharing of Voices across countries
Click and register Now!
🔗Registration: https://bit.ly/ncku-nursing2021
💸 FEES: Free
☎️Contact Person
Ms. Tina Tsai
tinatsai@mail.ncku.edu.tw
+886-2353535 #5827
Ms. Ni Luh Dwi
acine.apane@gmail.com

各位老師、同仁、同學好:
成大護理學系與亞太護理教育聯盟(APANE)邀請您參加10月7日 (星期四) 上午8:00 - 18:00 國際研討會,演講資訊與報名QR Code詳如附件,請有興趣的教職員生踴躍報名參加!

📅日期:2021年10月7日
📍上午場
轉化護理知識於行動-實證教學策略跨國交流國際交流研討會
📍下午場
COVID-19 期間各國護理教育的演變
🔗報名連結: https://bit.ly/ncku-nursing2021
💸 報名費: 免報名費
☎️聯絡窗口
Ms. Tina Tsai 蔡孟庭
tinatsai@mail.ncku.edu.tw
+886-2353535 #5827
Ms. Ni Luh Dwi 依德妮
acine.apane@gmail.com